Overview
Peer mentors can share their experiences, listen to your challenges, encourage you, and talk about everyday life.
Frequently Asked Questions
Who is eligible to join this program? Anyone with cystic fibrosis or who is a CF family member age 16 and older is eligible to join CF Peer Connect.
Who are the peer mentors?  Peer mentors in the CF Peer Connect program are adults with cystic fibrosis and family members of people with CF who have offered to share their experiences and connect with a peer like you. They range in age from 18 to 60+, are males and females, live in all regions of the U.S., and have a wide variety of experiences to share.
How am I matched with a peer mentor?  Matches are made by the CF Peer Connect team. For every person who requests a peer mentor, we look for a peer mentor who has experience in the topic of interest. When possible, we also try to match for other specific requests such as age, gender, relationship status, and employment status.
How do I connect with my peer mentor?  We recommend using video conferencing to build a virtual face-to-face connection, but you may also choose to connect over phone, email, or whatever method works best to connect online.
How long will the "mentoring match" last?   The mentoring time period is 3 months and your peer mentor will be available to schedule meetings during that time. If you and your mentor would like to continue communicating after that, you are welcome to connect informally outside of the mentoring relationship. You and your peer mentor will jointly determine how you want to virtually connect and the frequency of connecting. As a best practice, we recommend connecting weekly for the first month by video or phone and then 1-2 times a month until the 3-month period is over.
What should I do if it's not a great match?  You can contact the CF Peer Connect team if you need to be re-matched.
What if I get sick or need to take a break?  You can put your match on hold at any time. Just let your peer mentor know and contact the CF Peer Connect team at peerconnect@cff.org so we can make a note in your profile.
Are you a person with CF or family member age 16 and older?
Get matched and connect with another adult affected by CF.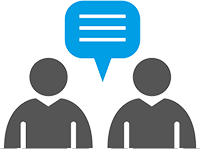 Peer DOs
Think about what you want to get out of this experience. What questions do you have? Do you want to share your story? Do you want to hear how your mentor handled a similar situation? 
Set aside time to connect with your peer mentor and let him/her know if you can't make a scheduled meeting. 
Connect in a way that will facilitate connection and feels comfortable to you. We recommend video, but you may also choose to connect by phone or email.
Tell your story. Feel free to share openly with your peer mentor.
Contact the CF Peer Connect team at peerconnect@cff.org if you would like to be re-matched.
Let your peer mentor know if you are ready to end the mentoring connection before the three-month period. It will help him/her know not to keep contacting you.
Peer DON'Ts
Don't expect peer mentors to know all the answers.
Don't ask your peer mentor for medical advice. Consult your care team if you have questions about your treatment or medications.
Don't expect your peer mentor to be on call or available 24/7. Make appointments for meetings that are convenient for both of you.